I don't know if I mentioned it, but a few weeks ago my car gave me some trouble. T-Shirt Face got it running, but my husband and I decided it was time to trade it in. It was a 2001 Saturn.
My husband did his tough guy wheelin' and dealin' and I bought this 2009 Ford Focus. It's shiny and black and so, so fancy. I mean, this isn't one of Ford's high-end cars, so I basically wanted power windows and cruise control. And most of all, I wanted a jack for my MP3 player. What I ended up with is everything I wanted, plus Sirius radio (6 month trial, but I'm already in love. It tells you want song is playing, and the artist!) and SYNC technology. Let me tell you about SYNC technology:
Every time I get in my car, it connects with my phone. If someone calls, it puts the caller ID on a display in my dash. I can answer by pressing a button on my steering wheel. If I want to make a call, I can use voice commands to say the number or to find someone in my phone's phone book.
If I get a text while driving, my car will READ IT TO ME.
I can also do all kinds of stuff I shouldn't be doing, and don't see why I'd want to do, while driving, such as use voice commands to change my ring tone or delete my text inbox.
I also can tell my MP3 player what I want to play, such as "Play Artist COllective Soul" or "Play track Rockin' Robin."
Seriously. Who knew cars had come to this? OK, my husband's car is pretty fancy, but I didn't know half of these options existed. Oh, and every so often I can tell my car to run a diagnostic and report back to me how it's doing. Then I go online and find its report. Hello, Jetsons.
Best of all, my car was not expensive at all. It started at $19,300, but we bargained the price, haggled the trade-in and got $2,500 in rebates. With a good down payment, I really didn't finance much at all! I love my husband for all this (I love him anyways, besides all this!). He did a great job.
It's also pretty compact, though bigger than my last car. It has good gas mileage and a small tank. I used very little gas before, and I don't think I'll need any more in this car.
And, yes, this car stays clean for all of 12 seconds. And since I tend to wash my cars about once a year, I could have a problem if I don't change my ways.
A sad moment was when I was at the front of the dealership and parked my car for a minute, and then realized I had parked right next to my old car. And I felt like I was cheating -- you know, I abandoned it and now I'm sitting in my shiny, new, fancier car right next to it. I got all teary-eyed.
--------------------------------------------------------------------------------
Finally made it in to
Hip Stitch
and bought fabric for my Amy Butler Birdie Sling bag. Those are from two different lines, and the yellows are not exact, but I think they go together OK.
I also found this cotton balls fabric on sale for half price and couldn't pass it up. I'm not sure what I'll do with it.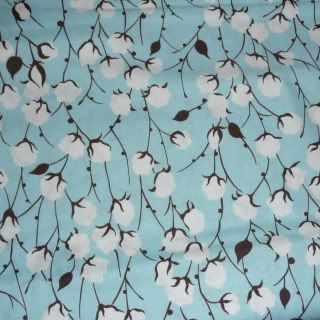 I've got so many projects lined up, and I'm jonesin' to sew.