I once bookmarked
this Web site
and then forgot about it. The other day I was bored and found it. It's full of adorable patterns. I was unable to snag photos from the site to show you, though I would have only done that in the interest of getting them more business!
Check out this
prairie dress
. I'm the last person who would describe her style as "prairie chic." But I love this. Click on the lower picture. CUTE!
I bought
this cape
. I also never thought I'd prance about in a cape, but this is SO DARN CUTE. And I guess I don't have to actually
prance
.
The
Hip Skirt
and
Smarty Pants
also look great.
Speaking of "hip," I was looking on the Favorite Things Web site last night for local retailers and couldn't really find one (one seemed to be a Web only business based here, but I couldn't find those patterns). Then I got my monthly email newsletter from local
Hip Stitch
and it said they have Favorite Things patterns! I keep meaning to get in there and get some fabric for my Amy Butler Birdie Sling bag, but it seems like every single time I'm ready to stop in, it's Wednesday afternoon, the day Hip Stitch closes early. It's just not close, so I always try to fit it in to another errand.
Further down the line, I really want to make one of these Amy Butler tunics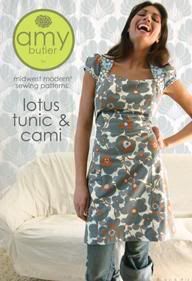 And I got an e-mail from Amy Butler (not personally, I guess) introducing her new Sweet Life bags. I thought they would be sewing patterns, but apparently you can only by the finished products, which range up to $180. Not. Going. To. Happen. I am disappointed because I think Amy Butler fans are people who make their own stuff, and that's what Amy Butler has always been about. Now she tantalizes us with things we can't have. Boo.
I would have loved to make this many-zippered bag, the Hampton
And the Sanibel is very cute, too