I made a cape. That's right ... a cape. And in the pictures below, I look fairly bad. I think I can come up with a better outfit for it. It's reversible, khaki on one side, white on the other. I used the
Sweet Es-Cape pattern
from Favorite Things.
I'd like to take a minute to discuss
Favorite Things
as a company. The pattern contains sizes from 4-22, and only gives one amount for the fabric requirements. Therefore, the fabric requirements must accommodate a size 22. I made the size 4 or 6, I can't recall, and found that I had 1/2-5/8 yards of both fabrics left over, plus quite a bit more that was barely cut into. I sent an email detailing how much extra money I'd spent than I really needed to, and they were nice enough to make it up to me with a new pattern of my choice.
I decided to post here because I appreciate and want to promote companies that care about customer service. The take care of customers AND have cute patterns! What's not to love?
------------------------------------------------------------------------------
I have made a few blocks from my Cubic Rhythm quilt. I think I can finish the quilt top today, since it really consists of seven large blocks and two borders. I've done 5 of the blocks already.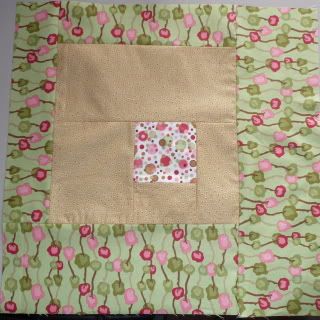 Finished quilt in magazine photo: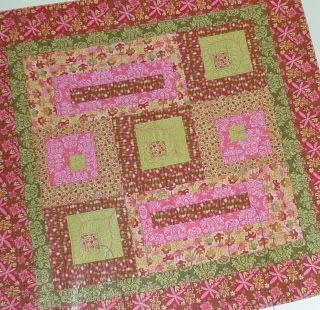 (my fabrics are from the same line, but in different color versions. I had a hard time tracking down all the ones I needed.)