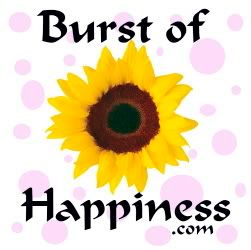 I have decided to start closing up my shop,
Burst of Happiness
.
The reason? I have just decided it's the best thing for me right now. There are other interests that I've wanted to have more time for, including sewing for myself, practicing my design skills, knitting more complicated things, dyeing yarn for those things, taking up golf again, working out more, getting things done around the house. The list goes on.
The business has been lots of fun! I enjoyed it so much, and it was a thrill every single time somebody bought something. To think that they liked my stuff! But it's also tons of work to sell in that manner. To sell online, you are lost in a vast Web of millions of sites. You have to constantly be online promoting in one form or another. You'd be surprised at how much promoting and card handing out you can do just to end up with one sale.
As soon as I backed off of all that effort, my sales came to a halt. I just don't have the time to put into all of that.
Locally, it's really hard to sell. The only shows I have considered worth my time, and by that I mean selling more than one thing, have been at an art studio where people are expecting to spend more money. Consignment has also not worked well -- I haven't found the right place, or, admittedly, put the effort in to do so. But it's not very easy to make a profit when you are making one bag at a time by hand. Once you hand over 40%-50% of the sale price to the shop, you basically pay for supplies and make nothing. That's why consignment or selling to boutiques hasn't been something I've pursued much.
Anyway, I feel really good about this decision. I thank everybody who has supported me in this venture!
I've marked everything in my shop down at least 15%. Prices are already in effect at my
etsy shop
. To change my prices on my
Web site
is much more time consuming, so I'm just asking people to email me for a new invoice.
This is a great chance to get nice items on sale, so tell your friends or start shopping for Christmas!