I've finished some items on my
to-do list
.
Remember this dress I wanted to make?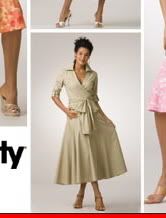 Well, many hours of work later, here we go:
In the end, I'm not so sure I love the fabric, but it was a lot of work, so I will wear it. OK, I realize it actually looks really ugly in this picture, but when worn, it's cute.
It was not all fun and games, either. Anytime I think I might be a good sewer, a new project comes along to teach me otherwise. One mistake came with serging. This is a serger:
A serger has a blade that cuts as it binds. I would recommend making sure your garment hasn't snuck under the fabric, or you'll cut a nice little slice right into the center of your, say, skirt.
And, you see, that means you'll have to cut a whole new piece out, unstitch the torn piece and resew the new one. And that's annoying.
OH, NO I DI--IN'T (how do you spell that?)
I tend to not know when to quit. I get very tired and then I keep going another couple of hours. Just one more step. OK, one more. I try to remind myself that I'm going to make a stupid error if I'm tired. Like sewing the wrong sides together:
ON TO MY OTHER PROJECTS:
I hemmed a pair of jeans so that I'm not forced to wear heels every day of my Goddamn aching life.
I made this little car trash bag, which is really cute. Normally, the side pocket on my car door is overflowing with dirty tissues. Now I have a place to stuff them. I probably will never empty it, so it will still be overflowing: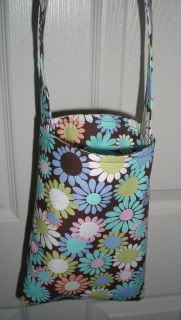 It hangs around your shifter.