I feel like lately my blog is full of boring posts of the yellow and black Vogue 1086 dress. Here is the last one.
I finally finished this dress. And it doesn't fit. At all. The problem is that this dress is very nicely finished inside. You start at the top, with the shoulders, and work your way down, finishing everything in French seams and nice facings. By the time I got far enough through it to have something to test for size, it was way too late to make adjustments. I'd have to undo the whole dress and then adjust the pattern, especially since really all I'd have to work with are the side seams, and the zipper runs up one of those. And then I'd have to take in the armholes, and then the armhole facings. Blech. So I have a dress that is TWO FULL INCHES too big around the bodice. How this happened, I'm not sure. I used my measurements on the pattern, and I know I cut and sewed properly.
I was determined to wear it at least once, so I threw a cardigan over it and belted it (I always think of those Gap "Just cinch it!" skits on SNL years ago). I thought it was manageable for one day at work, but whenever I sat down, the top would push open. Good thing I had a cute bra on. I have a friend in mind who might fit in this dress perfectly.
How I wore it: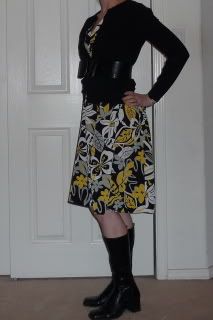 How it really looked, without all my tricks: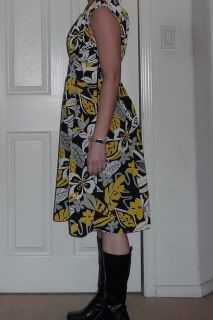 If it had fit, it may have looked quite nice: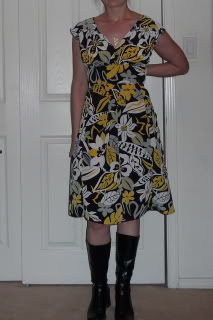 Now, the pattern didn't offer much in the way of finished dimensions. On the model, the dress was very fitted. All the pattern gave was the finished hem width -- and who gives a crap about that? -- and the back length.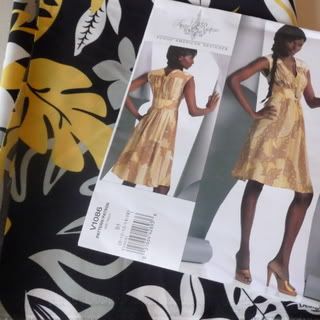 If anyone has any tips on how to test if a pattern will fit you before you even start, please post a reply.