You know that
baby quilt
I'm making? The pattern for which I bought from
Oh, Fransson
?
Well, she has started a quiltalong on her
blog
. I'm joining in. I'm making a quilt for my mother-in-law's birthday, which is next week. I just got my fabric last night, which means it will surely not be done in time. But I'll try.
Here is a general rendering of the quilt style. This is just a computer image in plain colors.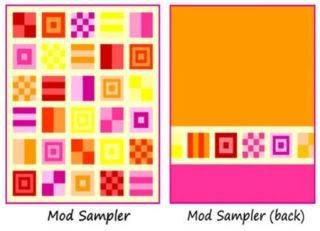 Here is my color scheme. I needed 12 fat quarters, and I am not really very good at choosing fabrics for quilts yet. So I went with a pre-packaged group of fabrics that are meant to go together.
I quickly snapped a bad (what a surprise) photo of how I'm pairing them, partly to help me remember if I get them mixed up.