Click here for a pdf version of this tutorial
Apparently all those super-tall supermodels have the fashion industry convinced that the average height of women is 6 feet tall. I am 5'4", and a few inches taller with heels. So why do pants look like this when I buy them? Seriously. Just answer me that. I know, the answer is that some women
are
6 feet tall. But not that many, right? So is the fashion industry in cahoots with some seamstress union or something?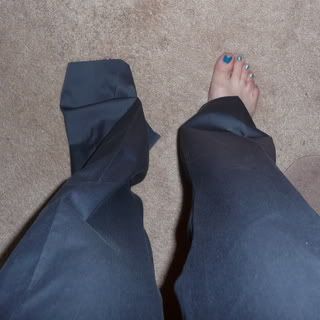 Never fear, you can hem them yourself. It's quite easy. Here is how you hem a pair of slacks with a blind hem, which is a hem that is invisible from the outside.
First, turn your pants inside out and examine the hem they came with. Write down the distance from hem to edge inside. You may or may not use this later, depending on a few things, but it's best to get in the habit.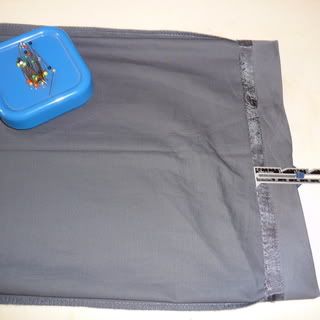 Next, try on your pants and make a rough pinning for length. It's hard to do on yourself, so do the best you can. I just put a few pins.
Take off the pants and turn them inside out (watch out for the pins). Measure the length that you turned up and get it even all the way around. NOTE: According to my alterations book, it's best to have the hem a quarter-inch longer in the back, so you may want to do this. That's what I did here. DAMN! Five inches!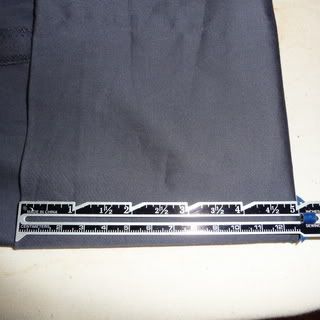 Pin all the way around to really hold them in place. If you turned up a huge cuff, you may want to put extra pins so it doesn't flop down. Do the other leg, too. DO NOT PRESS AT THIS POINT. YOU MAY WANT TO ADJUST THE HEM.
Try the pants on (careful of the pins) and make sure you like the length with whatever shoes you are planning to wear them with. I wanted these pants to be a little shorter so I could wear them with lower heels or flats. I tried them on with both.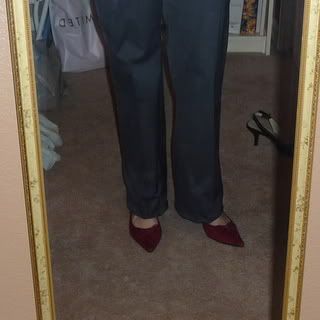 I also hate when you try to wear pants with backless shoes and the bottom catches between your shoe and heel, so I made sure they wouldn't do that.
I wish I could also wear my boots with these, but I think hems need to be longer with boots, so it won't look good. They look bad from the front.
If you're satisfied with the length, go ahead and take them off again. Press the hem to crease it.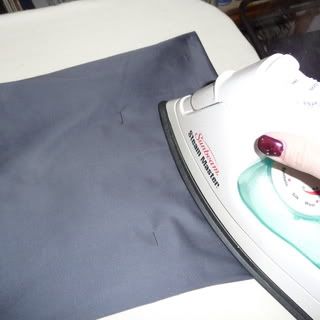 Next, you'll want to make a line to mark where you will cut off the excess fabric. My alterations book says that most commercial hems are about 1.5", to save fabric. A better length is 2.25-2.5 inches. My ruler is 2 inches wide, so I marked with chalk around. Then I added another quarter-inch. Really, I could have been lazy and stuck with the 2 inches and saved my self the trouble.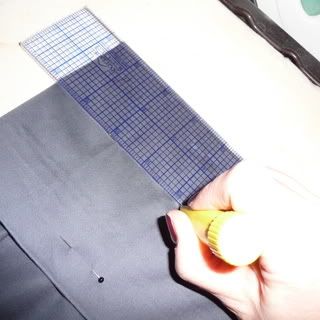 Next I cut along the line. I don't cut straight across both thicknesses. I cut in from the edge and cut around one layer at a time.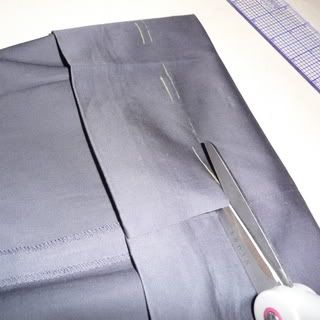 Now I need to finish the raw edge. I have a serger, and lucky me! it has black thread on it now. If you don't have a serger, never fear. You can use your sewing machine's overedge function or just a simple zigzag stitch to keep it from unraveling.
Now you've not a nice finished edge. You just need to secure it to the leg of the pants. This is where the blind stitch comes in. You want to use your blind stitch foot and stitch function.
First, you need to fold and pin. This part is a little weird at first, but it's not hard once you see what it is you're trying to do. You want to fold the cuff like so, turning the bottom of the pant underneath. DO NOT PRESS -- YOU DON'T WANT THIS TO BE A CREASE.
Keep in mind that you should line up the side seams and creases, so the leg doesn't sit funny.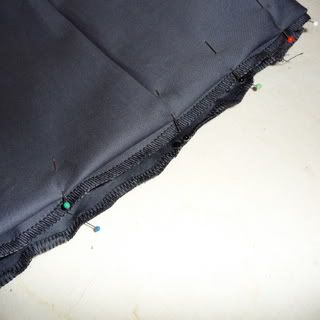 Choose a color of thread that matches the pants as closely as possible. I have gray and black here, but the black matches the gray pants a little better. Plus, the gray thread is quilting thread, which I bought accidentally. It's too thick.
What the blind stitch is all about is barely tacking the bottom edge of the pant to the pant leg. You are going to be doing a zigzag stitch on the little edge where the serger stitches are, then every so many stitches, the needle will hop out and tack the pant leg fold. Your stitch function does all this for you; you just need to adjust the width and length of the stitches. Test it a bit by turning the crank with your hand and seeing if the needle enters where you want it to. You should do a practice run on scrap material.
I am pointing with the needle tip to where you want your small zigzag to be (turns out to be a bit hard to see, sorry).
Here I am pointing to where you want it to hop over and tack the leg.
Go very slowly. Keep in mind that when I say "tack," I mean that you want it to barely hit the edge of this fold. If it goes in too far, it will show on the other side. For me, this is inevitable, so I don't fret too much.
As you can see, some of my stitches are visible from the other side. Even on professionally done blind hems, a wee, tiny tack is visible. Mine are much worse, but oh well. A pin is pointing to one of the visible stitches. Again, you can't see it very well. If I were nice, I'd have used a different thread color, but I was in a hurry.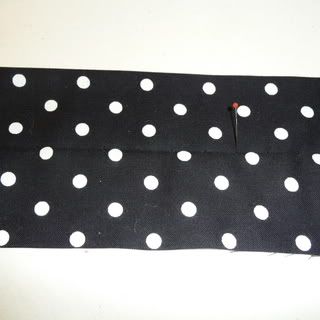 Now I'll do the real thing. GO VERY SLOWLY. You may want to remove the under part of your machine so the leg can fit around easily.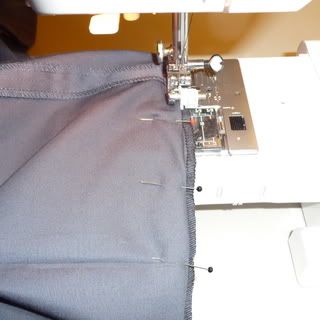 There! All done. Press your hem. Some of my stitches are visible, but unless you're my cat rubbing on my ankles, you probably would never notice, so if you can't get it perfect, who cares? At least your pants are the right length.