I have not had much to say, it seems, and little motivation to write. I've also been really busy. But I'll do a quick update.
Last Saturday was my birthday. I turned 35. No arthritis or wrinkles yet, so I'm good. As usual, I had a multi-day birthday extravaganza. Friday night, my husband and in-laws took me to Outback. I heard "Happy Birthday" sung at least seven times. Then we went home to eat pie, since I hate cake. Mark decorated the table in Disney princesses, so I'd feel young.
He also blew up a zillion balloons, which have actually provided me with endless entertainment kicking and hitting them about.
I got the bread machine I wanted (I have made a delicious loaf of white bread and pretzels so far). But while at Target, Mark saw the clearance racks and bought me a huge pile of random things that were practically free. Here I am trying to match to odd, matchless items together.
By the way, those ruffled panties wouldn't even fit halfway up my thighs, so I will be hitting the treadmill in a few minutes.
The next day, I had dinner with my mom and grandma. We had the to-die-for parmesan crusted sole at Yanni's, a Greek restaurant. Of course, I had rice pudding for dessert. My favorite.
Finally, on Sunday, my dad and stepmom took us to lunch at St. Claire's. Guess what I got? My butter crock! So far, I've filled it with butter but haven't used butter once.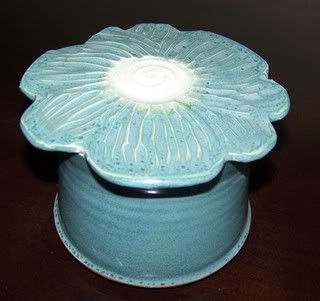 -----------------------------------------------------------------------------
I'm working very slowly on my black and yellow dress. Usually, I try to whip through a project in one weekend and end up with sloppy results. I'm taking it slow, and also working on cutting out the baby quilt. Quilting class continues, too.
-----------------------------------------------------------------------------
I would like to leave you with a photo my husband made me promise never to post on the Internet. But I'm the kind of person who makes bets and then refuses to pay up. So here goes: