I recently went to Salt Lake City with my husband. He had business to attend to, and I just tagged along because I'd never been to Utah. Luckily, the weather wasn't bad. I think I would have panicked had there been snow and ice everywhere.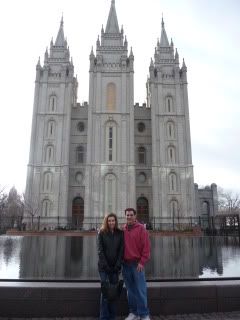 We went to Temple Square, which is, I think, pretty much what you do when you visit Salt Lake. And it's about all we had time for besides Mark's work.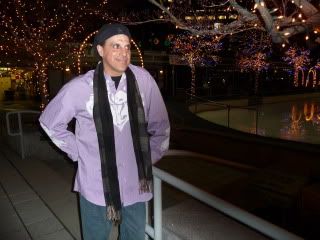 Don't even think he was really able to withstand the cold. He was freezing, but wanted to pose without his coat. I withstood it much better thanks to being overheated and pregnant.
Outside the downtown Marriott, there's an ice skating rink. Nobody was on it except the Zamboni, but it sure was pretty. Messing around on slippery surfaces is probably not a good idea in my "delicate condition," so I passed. I did get to finally wear my
Argyle Lace knit hat
with vintage buttons.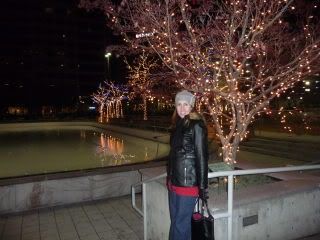 Temple square is beautiful. We didn't got bothered at all by people trying to convert us to Mormonism, and all of the people there were unbelievably nice.
Just a quick jaunt and we were home again. Mark is so impressed by the mountains there, and I must agree they are bigger, more extensive and very white with snow. But I think I still love our good ol' Sandia mountains more. I think it's because in Salt Lake there was always a grayness that hindered the view of them and in Albuquerque, the skies are usually bright blue and in a lovely contrast to the mountains.