See this?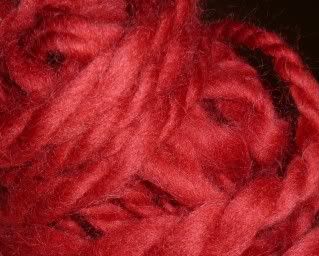 All wooly and red and thick and thin (MY FAVORITE)?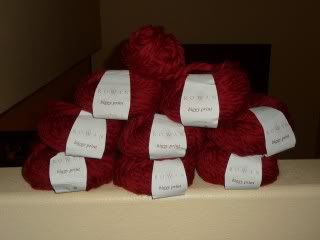 All eight-plus skeins?!!
It was free! Free, I tell you! Can you believe someone gave it to me? I did a swap in exchange for the
knitting bags
I wrote about before. But, I really feel like the winner here.
Now that it's fall, I've really been in the mood to start knitting. I got into a bit of a lull over the summer. I'm nearly done with a beautiful hat that I will show you soon.
I was wondering what to do with this wonderful gift. I started flipping through my knitting books, looking for something that takes big, bulky yarn but not a whole lot of it. Eight skeins really doesn't go far when it's this big.
I found this pattern in "Fitted Knits" that I had marked a while ago. I have yet to make anything from this book, and that bugs me all the time. I feel like I wasted my money on it because I have yet to use it. (Receipt inside book shows I bought it Sept. 5, 2008).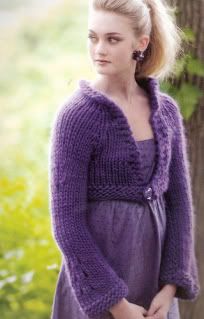 The Carie Cropped Flared-Sleeve Cardigan. I think that may be it, peeps!
But, wait! That's not all!
I came across this pattern for a capelet and was forced to buy it. I tried to remind myself that I sewed
this cape
recently and feel really weird wearing it.
Somehow, I'm sure this will be different.
I ordered Knit Picks City Tweed in Lemon Curd.