I sent out my final two gifts from
this post
.
To
Elaine
, taker of fantastic photographs, I sent two hand-embroidered oven mitts. I used vintage transfer patterns included with the "
The Kitchen Linens Book
" by EllynAnne Geisel and for the binding and backing I used Amy Butler fabric. Inside, I used InsulBright heat-resistant batting.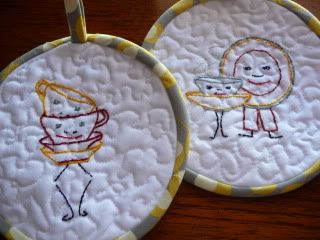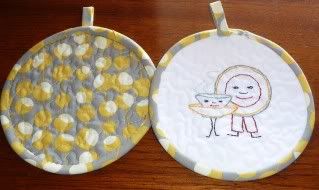 To
Amy
, my friend since college, I also sent two hand-embroidered oven mitts. Amy's were designs from "
Sushi Bar"
on
Sublime Stitching
. I used Amy Butler fabric for the backing and binding, and Insul-Bright for the batting. But at this point, I was having second thoughts about whether it would be heat-resistant enough, so I added another layer of cotton batting.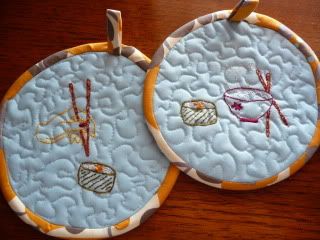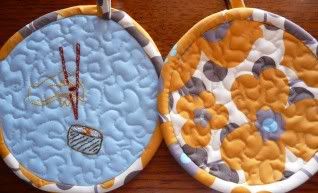 Unfortunately, I made a mistake and one is smaller than the other. I hope Amy will not mind too much. I cannot tell you how much I had to fight the urge to add blood to the chopped off end of that floating hand. But would Amy find the humor in that? I'm just not sure.
For Amy, I also threw in this towel I embroidered with vintage transfers from "The Kitchen Linens Book." She's pregnant and I figured she could use an extra perk-me-up.
Tiny celebrations
Sometimes, you're just eating your lunch/dinner at work. Nothing special. But maybe you can make it a tiny bit better situation by making it special with a nice napkin. I buy napkins (cotton or linen) at thrift and antique stores and then spruce them up in no time with a little embroidery.
Here, I used the Sushi transfers mentioned above.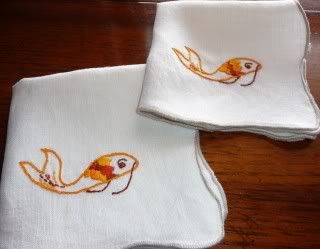 On the first fish, I did the scales in satin stitch, which I have not yet mastered. I didn't like the end result.
So for the second napkin, I did the scales with fill stitches, and I think it looks nicer.