Here are some more pictures of aprons for our new line
Babycakes Aprons
. My mom made these. They aren't posted for sale right now, but if anybody wants one, contact me through
Burst of Happiness
. She's going to see about getting a few into some local shops.
My mom always taught me that holiday fabrics were silly and not to be messed with. But she just made two adorable holiday aprons. The first one is a Thanksgiving apron with leaves on the outer layer, a burnt orange underskirt and a matching tulle layer in between. It's beautifully made:
This is a Christmas apron. It's a blue satin with silver design.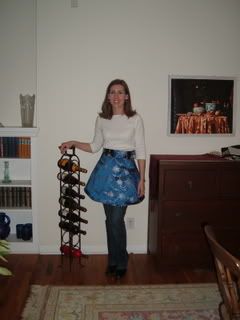 This is one I made, that's posted below. It's a little bigger, but I pulled the ties around and I think it looks really cute.