My Grandma just turned 86, and she's in great health. Yipee! I wished her a happy 14 more, so we'll see. We went to one of those Japanese hibachi grill places. I hope I got that word right. She was excited it was her birthday and demanded that the chef sing to her. He said, "me? or a bunch of us?" with much fear in his voice. She wanted
everyone
to come sing. He asked how old she was and she said 86. He said she's the oldest person who ever came into that restaurant.
Here is a fried rice heart. Nothing says love like fried rice. Just ask my belly!
Here is Grandma, Mom and Tony
Mark and me. My arm sure looks fat, but it isn't really. My butt's fat, but not my arm.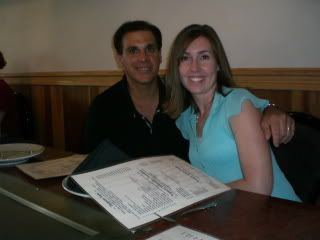 Grandma asked for it. They got out the gong.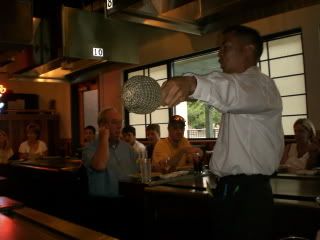 She needed help to blow out
one
candle! That's the irony of getting old: more candles, less strength.