Because I haven't had many posts on here lately featuring sewing projects, I thought I'd do a cross-post this week from my other blog.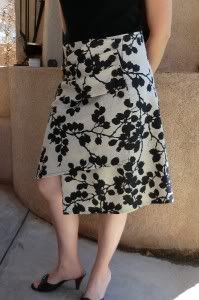 I found this skirt on
interweavestore.com
. I always thought it would be really inconvenient to have to download, print and assemble a pattern. It was 47 pages worth, but I simply uploaded to
FedEx Office
and paid $5 to have it printed. It wasn't even that much trouble to tape together the pages and then cut out the pieces.
I did have some fitting problems around the waist. I think some back darts would help a lot on this garment.
I made some easy changes to improve the hem, which can be found on my other blog post
here
, along with fabric information.
Overall, this was a quick and easy summer skirt project.