I bought the fabric for this project at
Hip Stitch
months ago and then had no time to actually make them. I wanted them for summer usage, but I wore them for about an hour last night and was so hot I couldn't bear it. I always wear pants to bed, but these just have a ton of fabric, I guess. They are big and wide and long.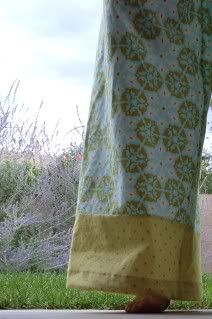 They are from Amy Butler's "In Stitches" book. So far, they are the only project I've tried from the book. When Brock was about 8 months old, I suddenly felt ready to sew again and I went a little crazy buying cute sewing books and fabric. Then I felt exceedingly overwhelmed because I do not much like having projects piling up and staring me in the face.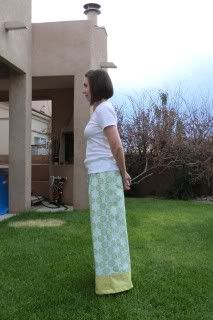 I left them a little long, and with the grass, they just kind of hung up. So I am standing tippy-toes to let them hang nicely for the pictures.
I think my pants look a little dumpier than other people's versions, but maybe I needed to make them smaller.
The book appears to have contrast fabric at the bottom in the photo, but I think it's actually just trim that's sewn on top. There are no instructions for contrast fabric. It's obviously easy to figure out, but when I first tried them on before doing the waistband, I thought I had made them suitable for a giant.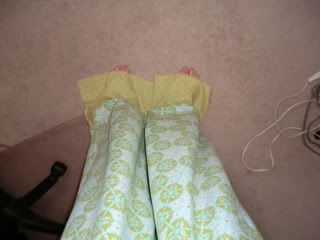 But after I sewed up the waist, they were just about perfect. I just needed a slightly larger hem than the instructions suggested.
I ended up adding elastic to the waist in addition to the drawstring. I just find it more comfortable that way.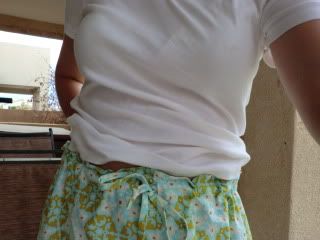 Instead of using my sewing machine, I serged the pants together. Then I switched to the sewing machine for the buttonholes, waistband, hems and drawstring.
I think one reason I put this project off for so long is that although the pattern book comes with the pattern pieces, it only comes with partial pieces for this project. You have to then attach long pieces of paper and extend the legs to where you want them. I had bought contrast fabric for the bottoms and did lots of calculations when doing my patterns. Calculations and guessing, really. But for me, those are sort of one in the same.
I made a size medium. They fit, but I think a small would have been better. I am 5'4" and still have some baby weight to lose, so I went a size up. Here are my calculations for the leg lengths with contrast fabric, if it helps save anyone else some time:
I added 19-3/4" to each leg piece. This is your main fabric.
The contrast fabric pieces were the width of the leg pattern pieces and 8" long. I used a half-inch seam allowance to attach the two pieces, using the serger, then I did the rest of the pants.
This pattern is really easy to complete after you get the pattern finished up and the fabric cut. But until it cools off here, or the humidity lessens up and lets my swamp cooler work better, I won't be doing much lounging in these.