I recently mentioned that I was visiting
Emily's blog
and spotted her cute kid's quilt made from Moda charm packs. It made me miss quilting, and it seemed like a quick and easy project that I was willing to take on.
I grabbed a couple of Max & Whiskers charm packs from Basic Grey for Moda and ordered 1-1/2 yards of one of the fabrics for the backing. I used 1/2 yard of another fabric for the binding, though that was cutting it close.
Here is the front:
Here is the back:
Close up of some of the fabrics. No, my corners don't always line up, but I try really hard.
I had an embroidered quilt tag made by esty.com seller
From the Heart Creations
. She was great about working with me to create a label that fit his full name.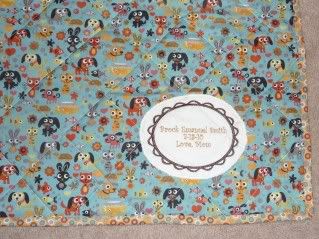 This got me excited about quilting. I've already started on another charm pack quilt, this one with sashing. It's using the Dream On collection and has a vintage sheets feel to it. I'm already on my way with that one, so I'll have pics soon. I'm not sure who it's for yet. I guess I'll see how big it turns out and decide if it's a baby quilt or a lap quilt.