I told you all recently that my 89-year-old grandma fell and broke her hip. Until then, she was in excellent health and lived independently. She was still mostly herself through the hospital and rehab stay, then went to stay with my uncle. Apparently, she got some sort of sundowner's issue at night and was very difficult to deal with. This week, she got out of bed (she wasn't supposed to walk on her own) and fell in the middle of the night. She fractured her femur, ended up in surgery and back in the hospital. At that point, her mind kind of went. She has expressed that she's ready to die and she has reverted to mostly speaking Spanish and not really knowing what is going on. It's pretty awful.
In the meantime, I had decided to make this quilt for her. Unfortunately, now that it's done, I'm not sure she'll understand who I am or that I made it for her. But I do hope that it will brighten her days, few as they may be, at the rehab center. It is unlikely she will ever live away from professional care again.
Anyway, sorry for the downer story, but here's the quilt. I used one Moda Dream On Charm Pack for the front, sashed with yellow. I had a second charm pack and used four squares of that one, one at each corner. And I bought one yard of fabric for the green border, which is from the same line.
I do worry that the yellow sort of washes out the squares, but yellow is my favorite color. As far as I'm concerned, the world can't be too bright and cheery.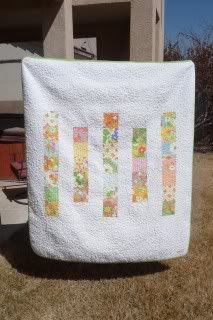 For the back, I decided to do something pretty (not just a solid fabric) because I had that second Charm Pack. So I did some lines and used white around them. The white shows off the squares a little better. I used a bright green for the binding.
I stippled this quilt, because I love the texture that it gives. Then I washed it to get an even nicer, puckery texture.