I got so much done this weekend (my weekend is Friday and Saturday, so it's wrapping up now).
For the baby's room, I finished the quilt and the diaper holder. Last weekend I made the dust ruffle, but I forgot to take a photo, and it's folded up neatly right now. My mom made most of the bumpers, but we need the crib-slat measurements to finish it. I also finished making two navy blue fitted crib sheets.
The quilt was part of the Vogue 7245 pattern I'm using for the nursery. It's a really simple quilt, so I was able to complete it in a day (not counting cutting).
This pattern in general sucks. The instructions are bad, and I'm glad I knew some quilting techniques. First, the binding it has you cut is incredibly thin, and the instructions don't explain how to sew it on. I can't even fathom how you could bind a quilt with such thin strips. I recut my own 2.5" binding out of leftover sheet material and sewed it on the proper way. I also took issue with the instructions on quilting, which have you quilt just a few lines a good 9 inches apart. Most batting won't hold up at that spacing, and the kind I had suggested quilting at 2-4 inches. I had to add in a lot more quilting lines, and it still was spaced a bit too far.
Here's the back:
I also finished the diaper holder, which was probably an unnecessary accessory, but what the heck. It was pretty quick to make, but I need a smaller hanger to insert in the top, so for now I had to try to hold it and photograph at the same time.
On the topic of the nursery, I received my dinosaur mobile, custom made by
Buggalove
on etsy.com
Once again, I had nowhere to hang it while photographing, so I'm holding it simultaneously.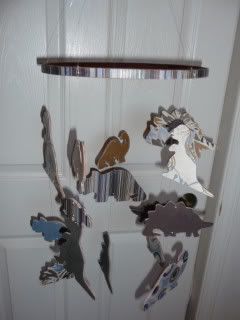 ----------------------------------------------------------------
As for other sewing projects, I completed these place mats this weekend and the napkins last weekend, both for the
Warehouse Fabrics Inc. blog
.
I also finished this embroidered wristlet, which won't be on the blog for a while. I'm trying to come up with some posts on the side that I can use after the baby comes to get a little time off. This one will probably post in July sometime.
Also upcoming on that blog will be these crewel embroidery wall art pieces I made: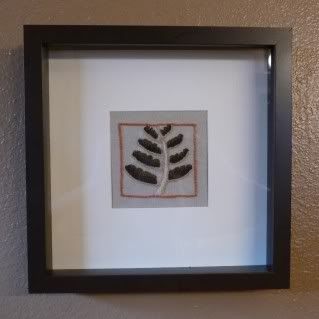 Finally, I think I forgot to share these pillows I made a few weeks ago. The fabric is really pretty in real life, but my camera makes it a bit too shiny looking.
Phew! That should catch us up!