Chickenbone Jones
, aka Amy, has requested a belly shot. Here I am at a few days shy of 6 months' pregnant. I'm 23 weeks and 4 days, to be exact.
(I got that top at Other Mothers second-hand shop for $4.99, and it's probably the prettiest maternity item I own.)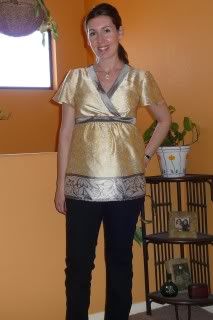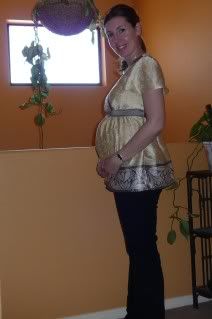 I feel sort of big, but my belly measured exactly 23 weeks yesterday, so I guess I'm right on target. I feel really good except for one thing: my back. It kills me when I sit. I am talking total misery. And I sit all day at work. It feels better when I get up, but I can't do my job standing up, so for much of the shift, I feel utterly awful.
On my co-worker's days off, I borrow her kneeling chair, and it is so wonderful. I went through nearly my whole shift with no pain, and that's without my uncomfortable brace! The brace doesn't help much with my regular chair.
I just found a $15 kneeling chair on Craig's List. It's in Santa Fe, but I'm willing to drive there and get it if it's still available.
Other than that, I feel quite good. Baby is healthy -- definitely punching and kicking "hello" often. I haven't gained much weight, which I really cannot believe. I think I've gained 11-13 pounds total, and most of it seems to be baby and not extra fat. That's just under target weight gain for this point, and not unhealthy. My blood pressure was rather low yesterday -- 90/60, but many women have problems with high blood pressure in pregnancy, so maybe that's not such a bad thing.
Now that my appetite came back, I keep expecting to balloon up. I'm sure I'll get a bit chunky by the end, but it doesn't appear I'll be gaining 50 pounds or anything. Then again, I just figured out that Carls Jr. has hand-scooped chocolate malts, so who knows.