Phew. I've been so busy lately. Appointments, (
my other blog
) projects, etc. etc.
I'm 22 weeks along now and I have started on the nursery. My wonderful Mumsy is going to come and help me sew some of it. I won't actually have the room prepared for months yet, but I wanted to get started.
So.
You know the thing with husbands? I think they should just stop having opinions about things. Things like nursery decor ... and baby names. Just leave me alone and let me do whatever I want. If I want to name the baby Alloicious, so what? I have no idea how to spell it, but it's a name my sixth-grade English teacher was strangely obsessed with.
Anyway, it seems my nursery decor concepts were very sissy-like, so we have come up with this fabric spread: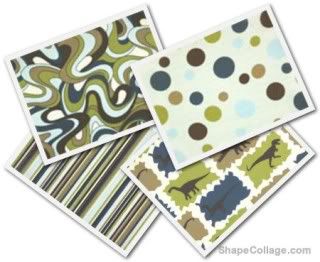 No sissies there! Rarrrrrrrr. I must say that I've become rather excited about the dinos, and even ordered a handmade dinosaur mobile and knitted dinos from etsy. I don't have them yet, but I'll show you when I get them.
I'm making the nursery decor from those fabrics above and
Vogue pattern 7245
. I'm thinking of going with the light blue for the walls, to help brighten the room a little. You may recognize all but the dino fabric from handbags I've made before, like
this one
, and
this one
.
Today I went to
Hip Stitch
, an Albuquerque fabric shop and sewing lounge, to cut the nursery fabrics. I needed a counter-height table with lots of space, since crawling around on the floor is getting increasingly less fun.
I also got some great fabrics there that I'll show you later when I get a chance to photograph them.