I ordered these
blocking mats
from
knitpicks
recently and am using them for the first time. Unfortunately, they are not as big as I expected. I hope to get another set for Christmas.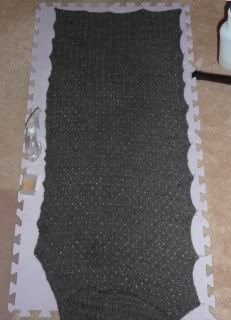 I am blocking the Adagio shawl I'm making for a friend, and I will have to do it in two sections because I ran out of mat. But my shawl is almost finished -- I just have to complete the collar and sew it on.
****added****
I had wanted to talk about the blocking mats a little bit when I posted this before, but at the moment, I really wanted to take a nap, so I seemed to forget about half of the intended post.
Anyway, these blocking mats are awesome. They are each 12 inches square and fit together like puzzle pieces so you can make whatever size and shape you need. They are made of foam so you can pin easily to them.
I also bought the blocking pins at the same site, which are easier to use than straight pins, in my opinion. You dampen your knitting project with a spray bottle on one side, put that side face down and start pinning to your desired measurements (we're talking about wool here, not synthetics. Wool has a memory that allows you to shape it while it's wet). Then, after it's pinned, spray down the exposed side really well and let it dry. If you live in the desert southwest, like I do, it dries in about five minutes and you're on your merry way. I sort of wonder how people deal with humidity, to tell you the truth!
I am fully adapted to low humidity, so even dry skin rarely gets ahold of me. You don't get as much mold and mildew, and you never see rust around here. The summers are hot ... "but it's a dry heat," so it doesn't bother you. And in the winters, HARDLY ANY SNOW! Yay! You never get those days where the air is so heavy and wet that you can't breathe. That's my plug for arid climates. I know it has nothing much to do with knitting, but tangents are my thing.