What? You're dying to know what works in progress I have going? Well let me share:
I am working on the Zigzag socks from "Vogue Knitting: The Ultimate Sock Book." I like the solid ones in the photo, but I'm using yarn I had hand-painted. I don't know if it's just because I'm an inexperienced yarn dyer or if other yarns pool strangely, but I can already see it happening. The nice thing about a solid is that you can see the cables better. But that's OK, because I immediately screwed up the cables. I am not willing to start over, so I figure if I do it right from here on out, it won't be too noticeable. I'm not very motivated with this project, to tell the truth. So I'll do a little here and a little there. I knit and knit and it never gets any bigger.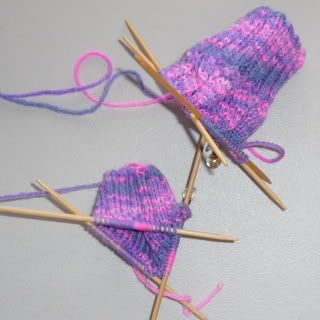 As I said in a previous post or two, I'm really excited about these fingerless mitts from "Boutique Knits."
I finally got my yarn and needles (size 1 and 2, but sock needles are too short. They are knitted flat, so I ordered circulars). Then the cheap circulars I bought immediately splintered. I already complained about that, but basically I am waiting on the replacements. I'm only two rows in, hardly enough to bother with a photo.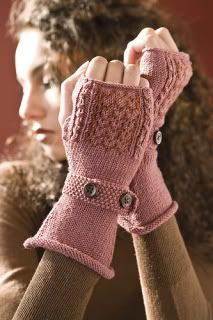 I'm still working on the Soldier Sweater from "Runway Knits." This is another one that I have trouble working on. It's sort of dull. I'm doing the back now and it's just 1x1 ribbing for inch after inch. zzzzzzzzzzzzzzzzzz. At least it's a small sweater, so it won't go on for too long. After this, though, the next boring part will be the sleeves. I'll do those simultaneously on circulars to avoid SSS (second sleeve [or sock] syndrome). Mine is made from Cascade 220 (nice and economical wool!) in a deep burgundy.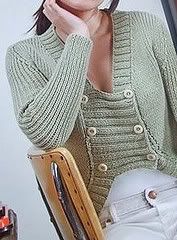 My newest project is the
Liesel scarf
, a free pattern. I wanted a soft, cozy black scarf with some personality. Scarves can be so tedious to make, so I wanted something with a pattern to follow. I had previously made a shawl from Debbie Bliss Alpaca Silk yarn in black. It was an ugly shawl and I never used it. So I ripped it out and am using the yarn for this.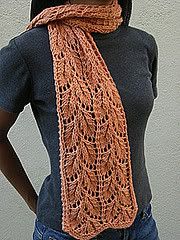 Finally, I plan to make my first quilt, a baby one, which I mentioned earlier. Here is the fabric I'm using. All I have knowledge-wise to go on is this book from the library. I also am now the proud owner of a rotary cutter and mat, and a quilters ruler. Who needs a $155 class, right? Right? I hope...