Lots of little things:
GOOD: I found some night stands that fit AND match nearly perfectly! Yay!
Old, miserable excuses for a night stand: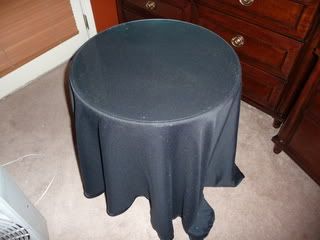 New. Look! A little shelf for my book!:
I found them at Pier One, and Mark told me to go ahead and buy some decorations for the house, which is just the kind of thing any wife likes to hear when she's trying to watch her spending. I got a few beautiful vases with eucalyptus in different colors that go perfectly with their vases.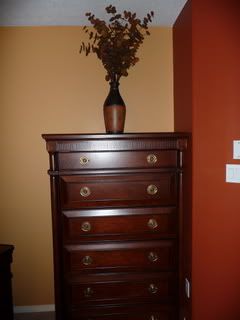 Giganto night stand #2 has taken up residence in the hall, where we are pretending like it just belongs there and we did it on purpose.
GOOD: We Craig's-Listed and got rid of several items that were clogging up our garage: a queen sized bed, a big, furry, 1970s chair, and an old bike.
BAD: Our washing machine broke. No diagnosis yet.
GOOD: Saw Toby Keith in concert, and it was really fun. I was introduced to the music of Montgomery Gentry and liked it. For a few hours, I kinda saw the appeal of being a redneck.
GOOD: Mark bought a new LCD TV that we don't need, which leads to ...
BAD: We have so many damn TVs, and it may be a battle to make him get rid of some. There is no place to keep them all. I know he'll keep the big, old one through football season, when he brings all TVs into the den and watches many games at once.
BAD: Mark's transmission is going out, but since he's been in the market for a new car for two years now, I guess it's just the kick in the ass he needs.
GOOD: I marked items in my shop down to their final markdown, about 50% off. I have sold 5 items in one day. I have 15 items left to sell, so stop in now -- shop closes Oct. 15 whether it's sold out or not. GO
HERE
NOW!