We finally finished painting the master bedroom and bathroom. It took five days, but I love how it came out. Reasons it sucked to paint this area of the house:
1. rounded corners, which makes changing colors hard because you have to create a clean line somehow.
2. lots of weird little walls and surfaces, requiring triple the detail work
3. one open space, so we used the same colors, but we needed both semigloss and eggshell versions, which meant we were working with lots and lots of buckets
4. Mark had never painted anything before in his life
The colors we used were by Behr, and they are "Firebrick" (rust), "Caramel sundae" (tan) and "Warm cocoon" (yellow/creamy color)
First, here is what I'm talking about with the bullnose corners. I wanted to change colors here, but there was no good stop point. What I did was tape a line and paint the first color. I tried to seal the tape as much as possible. I found that if you take a hard object like a flathead screwdriver and really run it over the edge of the tape, it helps get it in the nooks and crannies. Then I painted color No. 1. Later, after that dried, I taped over it and painted color No. 2. When the tape came off, it still bled, like this:
So I then took a brush and color No. 1 and very carefully and with a muy steady hand touched up my line. It came out surprisingly well: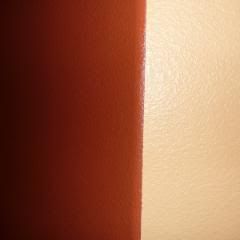 If all else failed, I had planned to order this
blending tool
.
I also found this
edger tool
to be a lifesaver. It made great edges in a fraction of the time. It's good for the edge where the wall and the ceiling meet, but also for other places, like where a tan wall intercepts a rust wall. It worked well, but sometimes it messed up. Then I found this
DELUXE version
, with guides that pop away while you apply the paint and therefore avoided messes. It was flawless! They were very inexpensive, and you can buy refill brushes.
Here are pictures of the finished product. Our bedroom furniture is older than me, but we are about to order some new furniture, which will really make the room look great!