It was our anniversary on Wednesday, and we took a short, in-state vacation.
First, we went to the Hyatt Tamaya on the reservation near Bernalillo/Rio Rancho. This is where we stayed on our wedding night. We did the spa thing, hung out at the pool and ate a great dinner.
View from our room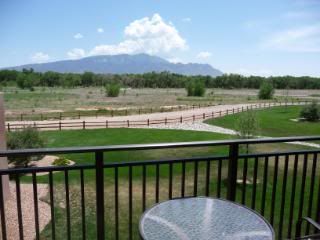 Here I am doing my 'ho impression. I can't recall why.
Random pics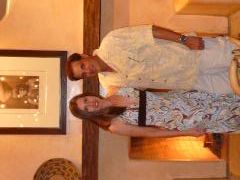 This is a half-way version of my Jerry Springer girl picture. On Jerry Springer, whenever a girl is like, "I'm hot!" and another says, "No you ain't!" and the first one has to prove it, she always shows a picture of her with her butt sticking out and her hands on the wall. I'm not sure what the pictures are supposed to say. But I got embarrassed while doing this in the hotel, so I only partway did it. Did I prove that I'm hot?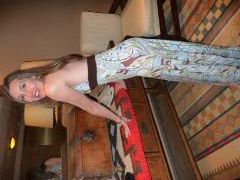 A frog
Next, we drove up to Pendaries (PAN-da-ray) up in near Las Vegas, N.M. It's a little golfing place in the mountains, and it's beautiful.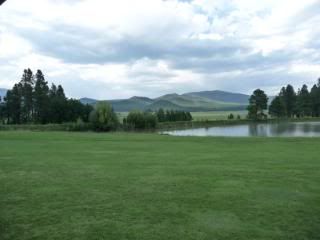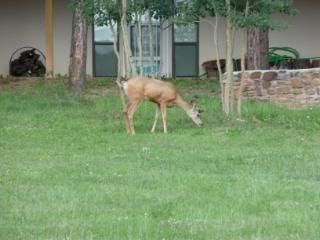 The accommodations leave a bit to be desired, though. The rooms are rather '70s style and very bare bones. No shampoo or hair dryer. You get soap, towels and a fly-swatter. There's no air conditioning, and everyone gets up early and makes lots of clomping on the common front deck. The maids barged in at 8:30 a.m.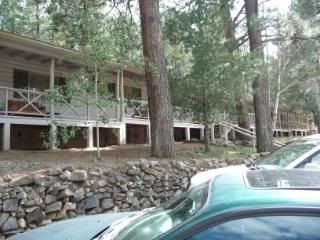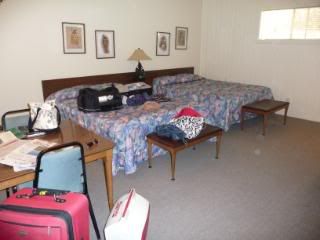 They use real KEYS here!
The great thing about Pendaries is that it rains quite a bit. We found the end of a rainbow, and guess what's there!? It's not gold. It's cows! This picture was proof, only you can't really see the rainbow. Or the cows. Phooey. Take my word for it?
A flower, beer, scenery and my husband. What could be better?!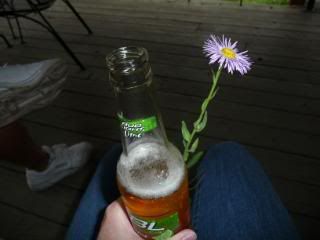 Mark got me this fancy golf bag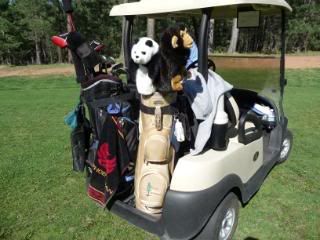 On the way home, we stopped at the golf station in Pendaries, but it had a sign that said, "No gas this year." So we stopped in Las Vegas on the way home, where, by the way, gas is really expensive. We found this place that offers full service called Gabriel's Customer-Oriented Service Station. Full service. We didn't know if we were supposed to tip or what, so we did. The kid was super-nice and seemed sort of surprised by the tip, so maybe we weren't supposed to.
Below Gabriel's Customer-Oriented Service Station's sign, there is this weird cage with Catholic statues trapped inside.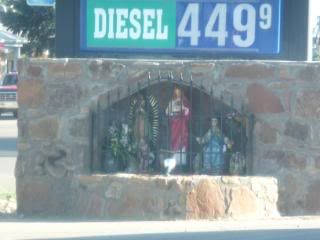 On the way back, as we approached Santa Fe, Mark remembered the Steaksmith restaurant, where they have that rare treat of raspberry pie. I've only ever seen that in Maine, where raspberries grow like weeds everywhere. We get goatheads, they get raspberries. Whatever.
Anyway, we've gone twice, but they always are out of this pie, so I've never got to try it. Mark decided to get me a treat, and I got one! I got one! And I lived happily ever after.
The End.