A while back, I wrote
this post
about dyeing the yarn and making a sweater for my friend's baby.
I have finally completed my project! Here is my little sweater and hat. I dyed the yarn myself and knitted this, which was a very long project. I swear that I've been working on this project in some way or another since February. It is made from a wonderfully soft cotton called Henry's Attic Island Cotton IV. It comes undyed.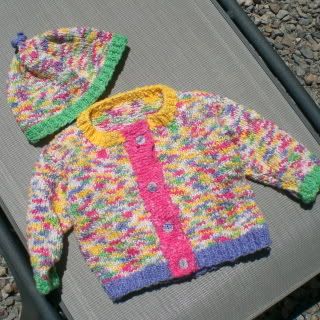 It follows the directions for dyeing and knitting in "The Yarn Lover's Guide to Hand Dyeing" by Linda La Belle.
In the above picture, you'll see a green sweater. That's the first version of the sweater that I knit. For that one, I used Cottontots by Bernat. This one and the booties are going to my brother-in-law and his wife, who are also expecting. I've shown you the sweater before, but now I've added booties. Alas, the booties may be for a smaller baby than the sweater is for.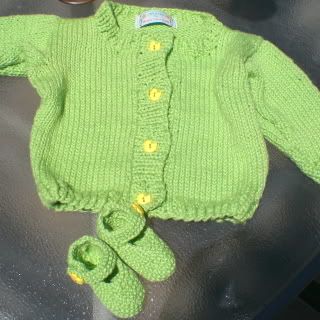 Are these not the cutest things you've ever seen? Ever!?
As for my friend, here are her other gifts. She had requested a diaper bag and picked this fabric. I forgot to press it before photographing, which makes a really big difference. It's wrinkled.
I decided to attempt a diaper changing mat that she could take with her for use on public diaper stations and such. I wanted to use Minky on the inside because it's so soft, but someone who knows more about babies than I do suggested using plastic so she can clean it easily between washings. They sell sewable plastic at the fabric store, but it was really awful to work with. I used the Minky with the plastic on top. This didn't turn out as well as I'd like. The plastic is wrinkled and crooked, but it's usable for a while. For an easy closure, figuring the new mom will be juggling a baby and a diaper bag and dirty diapers, etc., I made a loop with elastic so she doesn't have to mess with wrapping ties around and around and tying it. Smart me!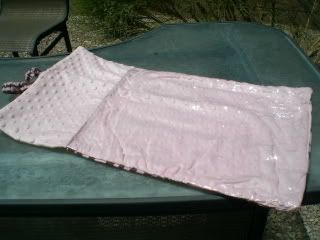 I also finished up some bags for friends, but silly me, I forgot to take pictures. That makes me sad because I like to have pictures of everything I make.