A little over a year ago, I taught myself to knit. It's not easy, like in the cartoons. It takes patience and practice and lots of mistakes.
I got to where I was making some pretty cool scarves, but that was getting boring. The thing about scarves is that they are rectangular and flat, so you don't have to put much effort into making them. I thought the fact that I was getting bored with them was an indication that I was ready to try new things.
Right now, I'm trying my first sock! This will probably be a lonely sock, since I only have one 50g skein of yarn, which I understand to be enough for one sock. I bought the yarn from an etsy seller and hand-painted it, so I can't just go buy more. I wasn't sure what I'd do with such a small amount of yarn, so I'm using it on my practice sock. That way, there's no stress if I mess up.
First I tried using a cotton sock yarn that was really thin, but I think my needles were slightly too big for it because I had a hell of a time getting things started. I started again with this yarn, which is a wee bit thicker, and it all came along quickly. The first few rows were scary looking, but I reminded myself that the first few rows of everything are scary looking, and then they come together suddenly a few rows down. And that's what's happening now. This is the top of the sock. It will get terrifying later, when I get to the heel.
New things I'm learning from these two projects: how to use double pointed needles; how to use circular needles; how to knit in the round; how to decrease and create shape; how to sweat and give myself a headache.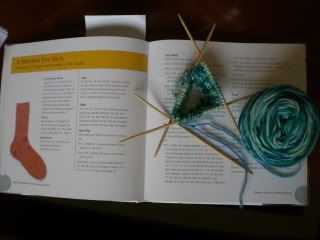 This is my first hat. In hindsight, I might have been better off with a slightly smaller needle for a tighter stitch. My yarn may be too thin for these needles. The colors also pooled strangely at the top when I started to decrease, but that's OK. I'm about to send my nephew his birthday present, and I think I'll toss this in for him. It's good boy colors, and it's cold where he lives. It might be too big, though.