Things are going my way this past week. After a bit of a dry spell, I got several orders. I shipped the second of two out today -- to Australia. The others I'm waiting for fabric to come in.
This is the diaper bag I made for the Australian woman:
and the inside, which is the interesting part of a diaper bag. I lined it in a complementary but different patterned fabric. There are elastic pockets along one side and the ends. Along the other side (behind the divider) is a divided pocket the length of the bag. The divider has a magnetic snap to keep it in place. This offers a place for Mom's stuff -- wallet, phone, iPod, etc. so that she doesn't have to carry a purse also. There is a Velcro pocket on the outside for keys.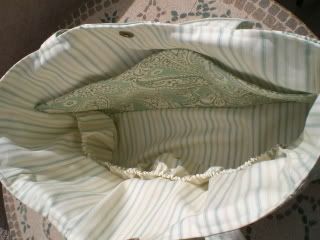 On another note, I was mentioned today on
cuteable.com
. OK, so it's not like they discovered me on their own, but I made myself known and they apparently thought I was worth a post. So, yay!
And on an even better note, I was also contacted yesterday by someone at
Local IQ
. This is a local, Albuquerque alternative paper. I also work in the publishing biz, so I have been fortunate to have ended up being contacted by a few local publications. It's who you know, right? They're going to do a little write-up for some shopping guide next week.
Here's a little lesson I learned: People now use their cell phones
a lot
, even for business. I got home from work at midnight and got the message. He said he was on deadline and needed to hear back soon, so I thought I'd leave a voice mail for him at his work and let him know I sleep a bit late but that I do want to talk to him. As the phone rang, it suddenly dawned on me that this might be his cell phone and I may be waking him up at 12:15 a.m. To my horror, he then picked up. Thankfully, he was not asleep and was actually ordering Greek food at some all-night Greek place (who knew of such a place here in town!?!)
I felt sort of ridiculous that I return business calls in the middle of the night, but he was cool with it. I will
not
do that again, though!