You know when you have a big, squishy couch and your feet don't touch the ground? Oh, I hate that. So I did something about it. I made a foot stool.
First I shopped around for one, but a) they were rather expensive and b) they were not my style. So then I decided to have a look around the Hobby Lobby. In the wood section, I found an unfinished wooden stool. I also found a small pillow (I suppose I could have made a small pillow, but this one was just the right size). I bought some stain, picked a fabric scrap from my stash and got to work: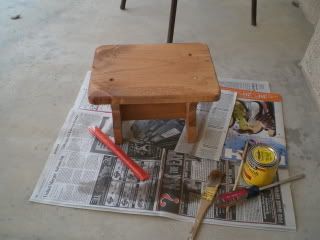 I stained the bench and then sprayed it with clear stuff. You probably know what it's called, but I can't remember. Varnish maybe?
Then my dad and I used a staple gun to attach the fabric, with the pillow sandwiched in between. My upholstery technique could use refining. And I had a terrible migraine, so once I got to my dad's house to use the staple gun, I didn't care that much how it came out. It's OK, though. It looks acceptable, and it's easy to put a new piece of fabric on any time I want.
I will say that the problem with this stool is that it tips over easily. So if you're going to try this, I recommend a stool with 4 little legs instead. I found some like that at Michael's and probably should have went with those.