Earlier, I posted about how I'd bought this lovely green alpaca and bamboo roving. I spun it into my second-ever yarn, using a drop spindle. I guess I hope you'll understand that I'm not very good yet.
I like thick, chunky yarns, and uneven, fat-skinny yarns, so I purposely made this yarn like that. Only there must be some secret to accomplishing that. This came out so ugly. And there wasn't very much of it. I had to stretch this skein as far as I could, so I knitted it with huge needles into a scarf. And it's the ugliest scarf I've ever seen.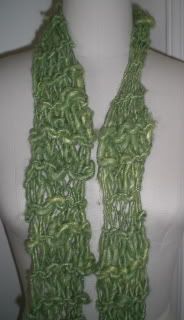 I don't know what to do with it. Sneak it into a donation bag to Goodwill? Do poor people deserve this? Give it to T-Shirt Face for father's day? Ooooh! Maybe I'll send it to my brother for his birthday.
In the past I've read about Ugly Scarf Projects where people bid on ugly scarves and the money goes to charity. Maybe I'll look for one of those.