What happened to my baby? He's 6 months old already. When I look at the back of his neck, I see a little boy's neck. Not a baby's! OK, so I'm insane.
He's getting nice and fat ...
He's so amazing. It's so fun now that he's interactive, alert and interested in his world. I know he's been that way for a while, but I don't get on and blog very often. He was a little difficult the first few months -- very fussy. But now, he's just a fabulous little boy.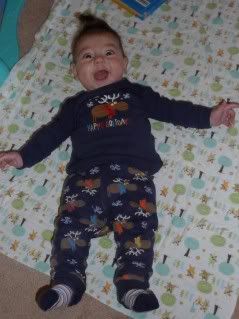 He still doesn't roll over much. He sometimes goes back to belly, but he can't roll the other way and he gets really upset about being on his belly. For a long time, he slept a good 12-13 straight hours. But then he got a cold and ever since he's been waking around 4 or 5 a.m. for a feeding. I'm sort of eager for that to end, but then again, he goes right back down and then we sleep for quite a while, so I'm actually getting more sleep than when he started his day at 7 or so.
I'm only working 3 evenings a week outside the home right now, but I'm still doing the Warehouse Fabrics Inc. blog, so I'm very busy! I'm really grateful for that opportunity to earn money from home. I also manage their social networking (Facebook, twitter and flickr) and put together the newsletter.
Still breast-feeding, and that's going pretty good now. For a little while, I was having a lot of pain and discomfort, but I'm feeling better and think I can keep at it! We just started solids last week, and that's loads of messy fun.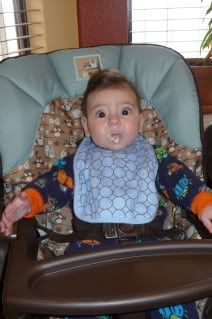 He can also sit up like a big boy, but can flop over at any moment.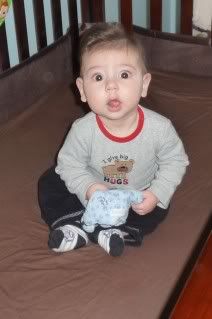 Brock loves his baths. LOVES THEM!!! He likes to get real stiff and hold his arms down at his sides while kicking off the bottom of his tub. He looks like he's doing Lord of the Dance. All the while, he has a very serious expression. Here, he's hiding his wee-wee from the pervs out there.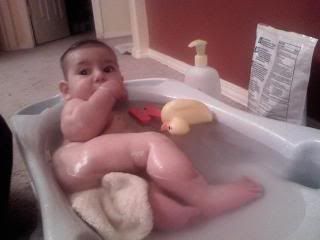 For now, I just enjoy cuddling my little angel as much as I can.