I've finally finished the baby's room. I'm only 4-1/2 weeks away from my due date, you know!
I've shown you the fabrics before: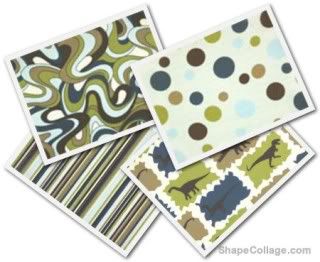 Step right in ...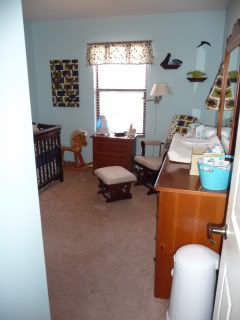 These are the cheapo shelves I once tried to paint with regular paint. Up close, they look just awful. But they came in handy.
I selected the crib online, and did a terrible job of matching the wood to my existing furniture. Too much trouble to send back, though.
The crib will turn into a toddler bed and then a full-size bed.
The mobile was custom made by etsy seller
Buggalove
. I hand-embroidered the dinosaurs in the frames.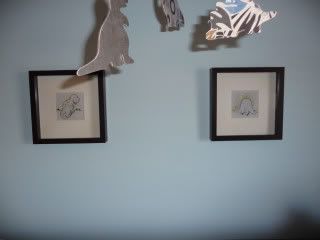 I sewed all of the bedding and such from fabrics I got at Warehouse Fabrics Inc. You can see them
here
,
here
,
here
and
here
. I used Vogue 7245 pattern, which I wouldn't recommend. The instructions were awful and the techniques lacking.
This is a toy holder.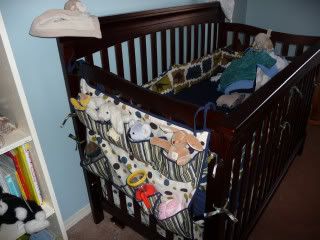 The bumpers are a little loose fitting and need some more work if I choose to use them.
A little hamper, a rocking horse that was handed down to me by a co-worker and a photo holder that I made.
I later decided to whip up this pleated valance for the window. It did a lot for the room, really, and was easy to make. I made a tutorial
here
.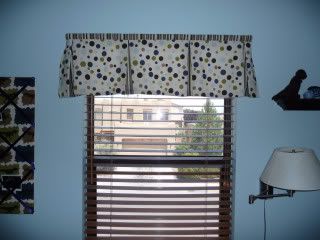 I ended up ordering the cheapest glider chair I could find at Target, and it is really quite comfy! I made the quilt and diaper holder, too.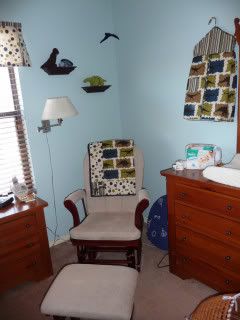 The dresser from my guest bedroom set stayed in the room and will double as a changing table.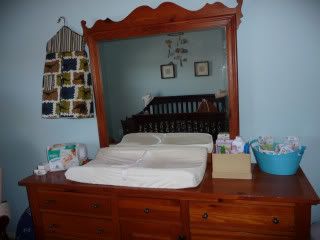 (My cat really likes the changing pad for a bed.)
JackKnits
on etsy.com custom made these dinosaurs for me, and the colors really matched well.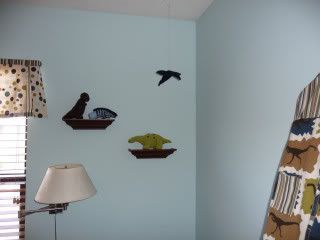 Now I just need to get the bags packed!
Oh, and go into labor and stuff.