Once upon a time, I bought some nice, soft, gray jersey fabric at the thrift store. I didn't know what to do with it, until I saw this Burda 7866 pattern. It's sorta '80s, I guess, but I'm starting to loosen up with my aversion to that era. You know, I lived through the horror once, already. And those "skinny jeans" ... not the look on me anymore unless I want my arse to look about 20 times bigger than it already is.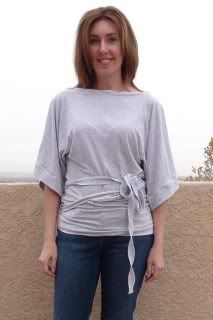 It's really comfy and soft. It has lots of room on top, with just enough fit on the bottom. And it has a tie that wraps around and around for no real reason, but it definitely adds something.
Why, what a natural looking pose.
A few things I did
wrong
differently: I was supposed to cut the front and back on the fold. I seemed to know this, but for some reason I got confused and convinced myself I was wrong. This was my first Burda pattern, and some of the markings and instructions are different. So, oops, I had a seam down the center front and back.
I figured I could just use it to lounge around the house if worse came to worse, so I sewed those seams. But they just looked crummy. Then I thought that maybe it's time to learn to use some of the functions of my serger. I got out the manual and changed some settings and did this decorative stitch, instead.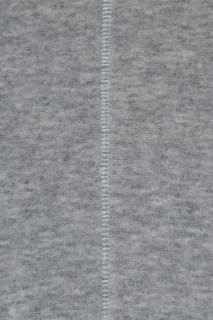 It's kind of like a ladder stitch from the front and serged looking from the back. It's cool because when you first sew, it looks like nothing, but then you have to grip the fabric from each side and pull, and as it pulls, this cool seam emerges. I'll probably post more about this at some point on the
Warehouse Fabrics Inc. blog
.
Anyway, I applied this seam style to the hems of the top and the sleeves, too. Except in some places I did not do such a good job. It seems to work best on a fold and not on a fold paired with a raw edge, because I kept missing the raw edge.
Also, for the tie, instead of just sewing and then turning the whole darn mile-long thing right-side out, I simply serged either side. I thought it gave it texture and interest.
My husband saw it and wanted one for him, which I'm a bit puzzled over. Such a thing cannot be allowed.
From the pattern: